REVIEW: YOUNG LEAN I FEE LIKE(ft @FlexDpaper X @BigTrillKaiza) &TONIGHT Reviewed
Read Time:
1 Minute, 47 Seconds
"Over The Years,Ugandan Hip Hop Has Been Steadily On The Rise. This Has Seen The Emergence Of Radio And Televised Shows particularly To Broadcast What I Would Term As 'The Fair Rise Of Ugandan Hip Hop'. In Line To this, a One Misterdeejay (@Misterdeejayug/Twitter),Host Of 'Saturday Night Mix Show'-SNMS On One Of Uganda's Urban Media Houses Already Got This In Check. As Part Of His Own Developed Idea,He Came Up With An All Ugandan Night Every First Saturday Of The Month. It Is On This Saturday That He Dedicates His Listener-ship To An All-Round-Fully Spin Of Ugandan Music In His Mix Show.
The Industry Most definitely Needed This Presentation,What An Invention! So,On 4th,It Happened To Be The First Saturday Into July. He Had Young Lean, a Fast Up and Coming Hip Hop Artist Amongst Other Hosted individuals of the Night, Which Included Navio And Some New Fresh Talents. While On The Show,Young Lean Premiered Two Tracks,'TONIGHT' And 'I Feel Like'. Being The First Song Of The Night To Go For An Air-Premiere By Misterdeejay,TONIGHT Had Its Word-Play And Arrangement Fairly Done(Save It For A Party Starter). Though,Presenting TONIGHT As A Finished Song,Had A Few Elements On It Lacking! Blame It For A Not-So-Good Production That Every Up And Coming Artist Faces.This Should Not Be Seconded For An Excuse.
So,To Save His Second Song From A Poor Execution,He Teams Up With Beat Producer THE WEEZY And Is Blessed With Features From Flex'dpaper And Bigtrill To Give Life To 'I FEEL LIKE'. Flex'Dpaper And BigTrill Give It A 'Run For Play' Kind Of Feeling. Like All Focused Fresh Rappers,Young Lean Rides Well On This Chance Given That He Was Featured By Some-What Recognized Rappers On The Ugandan Hip Hop Scene. Being A Rising Hip Hop/Rap Artist,It's Only A Matter Of Time On How The Ugandan Music Industry perceives Him.
(Promo Art for I feel Like)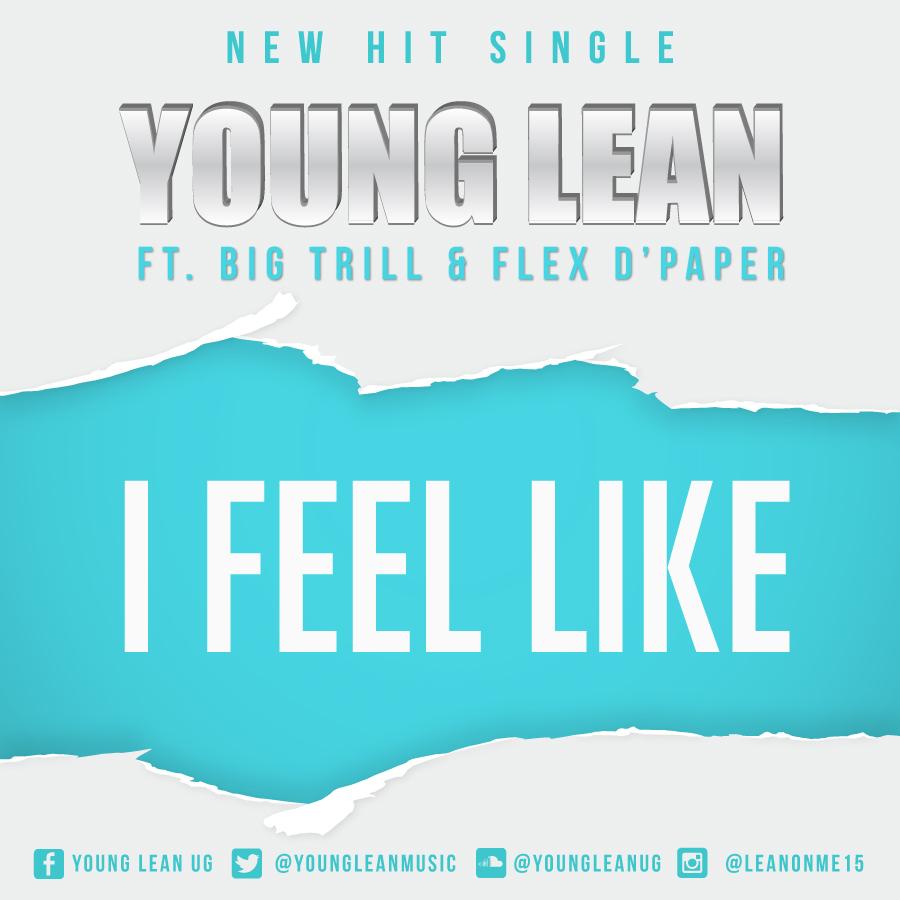 Click Image to Download I Feel Like
Review By: AGGREY REAL
Illustration by: Ayella NuveyShawn
About Author