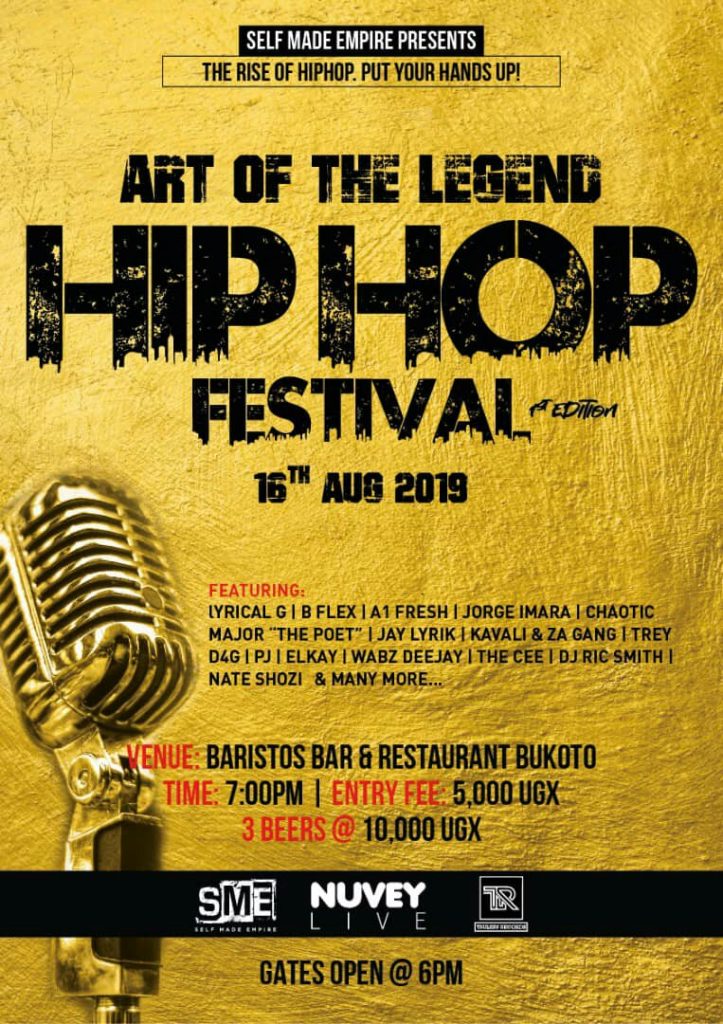 Read Time:
1 Minute, 2 Seconds
Music has different ways in which it can be consumed and appreciated; Self Made Empire (S.M.E UG) is presenting to hip hop fans a festival themed day to celebrate Ugandan Hip hop on 16 August.
The hip hop events Start-up has teamed up with NuveyLive.org and entities for this first edition of "The Art of The Legend: Hip hop festival". This event is intended to create a wider space for artist discovery and talent show case for up and coming artists. It is also a way for the established artists to continue promoting their music. In the end all involved entities to share knowledge on how to build a brand in hip hop and sustaining it.
What to expect?
According to founder Nathan, S.M.E the Hip Hop Festival will feature: Freestyle battles
Performance
Speakers
Comedy and
Other guest Performances.
Confirmed acts for the day include: the legendary Lyrical G, BFlex, CMajor the Poet, Kavali who will grace the event on 16 August at Baristo bar and restaurant. The entrance fee is at 5k USHs and the event will start at 6pm till late.
S.M.E plans to have this event happening quarterly and this is the first edition.
Follow SME here
About Author
________________________________
LISTEN TO THE NUVELIVE PODCAST:
---
NuveyLive is an Independent media platform for creatives
How to support The NuveyLive Podcast
ADVERTISE WITH US HERE