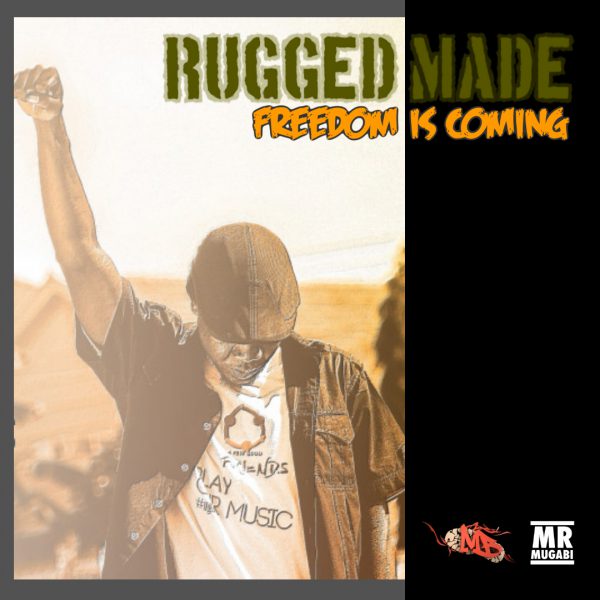 Read Time:
3 Minute, 7 Seconds
Rugged Made is set to release his Creative Freedom album but before that he has dropped the 10 tracks Freedom Is Coming mixtape. The tape is meant to give us a taste of Creative Freedom or even what Rugged Made has been up to. Does the tape live up to it's notion and sentiment? Read on.
On Creative Freedom, Rugged reminds us of his lyrical abilities, storytelling, punchlines and above all the fact that hip hop is all he knows as grew up in Namuwongo. The tape is different shades of the rapper who has been here for a decade plus. For a rapper who hasn't been in the mainstream as much (insert "Raising" and "Balance Of Power") and yet has such a mass appeal to the core rap community. FIC is an honest offering – at least for a full length project to this audience that has grown with him.
Made, is not out to prove a point even though he comes with his braggadocio. His years active come with lessons, gems that he actually shares on this project. He without mention, thanks HipHop and tells stories of what it was then, misfortunes and the plight of so many. Rugged is aware of the passage of time that he rides a DJ Mustard type beat to dropping a whole track titled "90s Vibes" featuring Jaydah. The allure is aimed for both young and old. He is not out of touch with hip hop, Ugandan Hip Hop because he smiles when he hears the Bennys and Tucker Hs.
If you are expecting a People Power, Black Panther fist up vibes because of the cover art, this tape is simply Rugged already exercising his creative freedom before the album no pan intended or not. He picks beats of all kind to a typical Papa Stein produced "Time". Much as he serves lyrical Kung Fu, Rugg offers game throughout to admitting that he is "dropping jewels, no rapper is". This is an empowerment tape from one of the Second generation Statesmen of UG Hip Hop . He hopes rappers know how much power they have and so should use it as he has done.
Rugged might not be the rap superstar; is a rapper with influence on most rappers out there, with this project he is open to inspire the next shinning star. He is grateful for so many who put him on, and is more than ready to put on many. He is actually a collaborative artist.
Honestly, we have waited for a full length project from Rugg, to the promised 'Rugged Stone Age project'. He knows we have. He is actually conscious of this in both Qube freestyles. He gives us, laid back Rugg, lover man with the good pipe she should be ready for Rugg, turnt Rugg (see "Gakuba") to I am good with pen, but y'all already know Rugg.
Over all, FIC is lyrical, a decent one sitting listening prelude with notable songs like "Mbiyitamu" featuring Kucha Ruffin and Zainab, "Time", "Rail", "90s Vibe" and for your workout songs "Nfirawo" and "Gakuba". By the time you finish listening you realise the hopes of freedom fighter tales at a national level and related sentiments don't surface that much – it's Rugg being free to spit on anything with the gift to code switch from English to other languages smoothly. Freedom Is Coming explores individual liberty as seen and lived by the rapper – it's creative with an eye to the social issues like rape, loss on "Rail". You can feel Creative Freedom is coming with this project. it is content build up, less conceptualized and a road to the album which is likely conceptualized.
Listen below:
________________________________
LISTEN TO THE NUVELIVE PODCAST:
---
NuveyLive is an Independent media platform for creatives
How to support The NuveyLive Podcast
ADVERTISE WITH US HERE