Dallas Plein is ready to release his debut EP AFROWAKAYIMA and has teased it through a 2 minute walk through his hood – Kosovo in a somewhat introspective and self narrated mini documentary.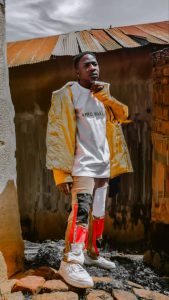 Dallas Plein last year was on a dissing spree and tried to provoke rappers like Sarkodie(Ghana), Kao Denaro(Sierra Leone) and others. This move sort of attracted attention towards him as he released a number of freestyle videos. The rookie has received criticism for this move. It didn't destruct him from making music. He refocused his energy.
"Shake It" is his current single which he released last year and released visual for last month off his AFROWAKAYIMA EP. This documentary as it's called, is an insightful look into his world, a prelude and a proper introduction.
Watch below:
________________________________
LISTEN TO THE NUVELIVE PODCAST:
---
NuveyLive is an Independent media platform for creatives
How to support The NuveyLive Podcast
ADVERTISE WITH US HERE