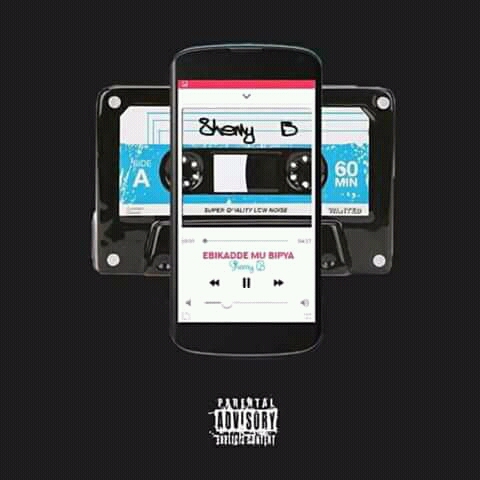 Read Time:
3 Minute, 8 Seconds
Ebikadde Mu Bipya is Shemy B's second album packaged with some of the best stories ever told by him, awesome production and acuity. The album borrows from his past (Street Identity) and allowing it to flow into the new or slightly newer trends and yet still maintaining the artistic and musical elements intact.
The Luganda rapper who is very vocal and operates with 'street-mind-grind'; contests for the best album delivered in Luganda in 2018 alongside Mun G's oMungi Atibiwa and Nsimbi from Nsimbi Music. Ebikadde Mu Bipya is with no doubt the best full length body of work he has put out and in collaboration with Nase Avatar who executive produces it.
The album is a 12 track project and follows within 39 minutes making it shorter than his debut album Street Identity.
The feat to bring old into new and new into old is an accomplishment this album explores. Shemy tells remarkable stories like Eseza and one street story of one Robber (phonetically stylized version of Robert and also a reference to robbery). Besides the wordplay, Shemy makes it clear he can tell stories and he is refreshing while telling them.
Wegombesa nga Libya mu mulembe gwa Ghadaffi

You are admirable like Libya in Qaddafi's reign/
The project is thematically multifaceted: telling stories of real life gangsters, struggle, racism, love and affection on Nalulungi  (Beauty Queen). With Webale (Thank You) he dedicates a whole song to his and other fathers. In between the album he takes some time for raps oldest theme: braggadocio on tracks like Battle, Nabagamba and Tetuli Bagenyi.
Trap influences, guitar riffs [on Tukasuka (we Throw) and Mumanyi Ki (You Know)], piano, Afro soul/rap influences make a huge presence this project. The trap attempt on Tetuli Bagenyi (We are not visitors) produced by Rex Beats reveals Shemy B's biggest feat to trap given that; he has an influence of Big L and the American West Coast (which he has admitted before). He is not so comfortable but we still listen to the track. This is ideally the albums weakest point. The trap vibe seems a novel thing for him but he tags along and it is the skip-able track on the album.
The album sonically is an improved Shemy B embracing overtly and subtly new trends (see the track list and length), bringing oldest elements like story telling into the present when many raps fans are forgetting it or just don't seem to care for. The only non-hip hop appearances on the album are Man-Son and Herbert Sensamba (who adds lots of melody on three tracks and he delivers appropriately).
Robber, Okumusimatuka oyina Kubera Sebaduka

Robber, to overrun him you had to be Sebaduka ( a great runner)
Ebikkadde Mu Bipya can be described as old meets new where the old stories of youth, life lessons are brought into the present time – the cover art designed by Trip Music speaks volumes. Modern and old instruments, old messages, new ideas and, new and old production techniques weaved together is what Ebikadde Mu Bipya is. All this for the love of hip hop as manifested vividly on Mubanja (I demand Hip Hop).
Shemy B is outstanding when he decides to tell stories, humour, his wordplay borrows from local street slang and his constant references to Mutungo Bbiina (all stories told) add to his authenticity – you can tell that by the attitude he treats hip hop with.
Until another full length project is released, Ebikkade Mu Bipya is his best work that achieves to harmonize the old and new agenda from so many dimensions. The album is for both the young and old, and entirely inclusive thematically.
Get Copies of the album from Shemy B
About Author
________________________________
LISTEN TO THE NUVELIVE PODCAST:
---
NuveyLive is an Independent media platform for creatives
How to support The NuveyLive Podcast
ADVERTISE WITH US HERE