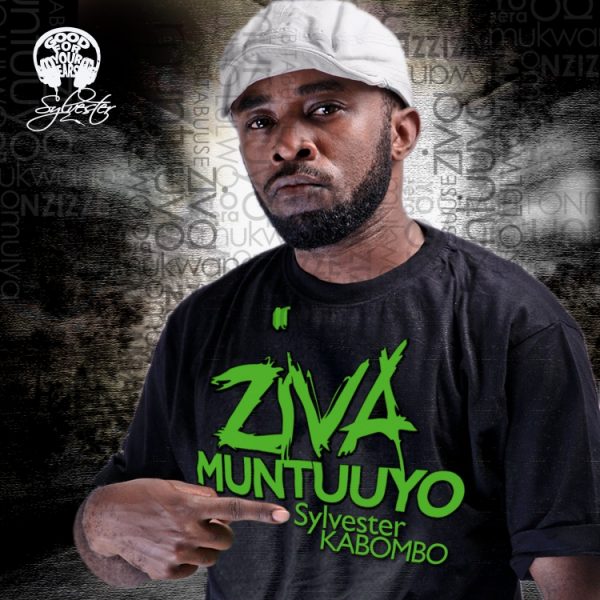 Read Time:
5 Minute, 51 Seconds
The one half of the duo Sylvester and Abramz (longest serving and active hip hop duo and acts at large). Sylvester wears so many hats and many have interacted with him under different capacities, one may wonder when he gets time to make music. Because of the many responsibilities he has impacted lives as an artiste and cultural influence.
Sylvester Kabombo says Ziva Muntuuyo debut compilation album will be out this month and this time round, digitally. The album has fan's favourites like "Ziva Muntuuyo", "Akaseera", "Omulya Mamba" and others.
The 13 tracks album, Ziva Muntuuyo was initially released back in 2014. According to Sylvester Kabombo different projects and several countrywide tours along the way left him with limited time over the years that he instead made a compilation as opposed to a more conceptualized record . The album was initially released only on CD with some singles out, now it is finally getting a digital release.
The music industry globally keeps changing, 10 years ago the music CD was a staple as regards selling records as an artiste. In Uganda, digital music streaming has been peaking for years that currently Tidal and Spotify are some of the available streaming platforms many Ugandans are getting familiar with to experience Ugandan music. For an artiste of Sylvester's stature, it is only right to have your music available to older audiences, new and even potential next fan base.
Younger hip hop fans might not know how active Sylvester Kabombo has been in the game; as an individual and as part of S&A whose song "Lemerako" was the first Luganda Rap video to go on air in August 2006 dominating playlists on Record TV and UBC TV. This release could help bridge that gap.
Sylvester who raps in Luganda most of the time, is known to touch social issues and does a lot of social commentary and activism through art. Themes like hard work (On Ziva Muntuuyo), money, togetherness, love(see "Omukwano"), relationships (See "Akaseera"), change and humanitarian issues. This has been possible by releasing music that stands the taste of time.
Ziva Muntuuyo will be available on 9th July, 2021. It features production work from beat makers and audio producers locally and globally. These include Skinnie ( Infinit3 Records, Uganda), Eric "Onasis" Omondi (RedSoiLL Productions, Kenya), Nase Avatar (Portbell Drive, Uganda), Koz 'N Effekt (Uganda), Johannes Kung (Joh Beats, Switzerland), DJ Glue (Indigenous, Belgium), and Abraham Ssekasi, an instrumentalist from Uganda.
The rapper, musician, social entrepreneur, educator, freelance project manager and events organiser when asked about why he has considered adding digital stores as another avenue for fans to access his music he had this to say:
There's time for everything I should say. I wanted to release new music on the streaming platforms and I thought that it would be nice if I first release the previous album and that would get me more time to prepare myself for other new projects. I also have people who have been asking me a number of times why they can't access my music on these platforms.
This happened a lot last year in the lockdown. We were all finding ways to keep ourselves motivated and inspired, and art played a major role in that. The lockdown has had its good and bad side. There are certain things I wouldn't have accomplished if things didn't change to the way they are right now. It has been a wake up call.
Last year 2020, saw so many artistes consider streaming. That in mind, I asked him a number of other questions.
How is it that a number of artists from your era are reluctant to consider digital distribution?
I speak for myself. The money coming from streams is very little considering what you earn when you sell a CD. So having been in that era of CDs I see that we are not paid enough. You need to generate a lot of streams but still some big names who fall in that category complain about the same thing (low pay). It's for that reason that I decided to invest heavily in my own merchandise and also print for other artists and the general public.
I get a good direct income. My life is not going to depend on those streams, I will continue focusing on my other sources of revenue. I have been so reluctant to put the music on streaming platforms but the lockdown has given me more time than I need to pursue it and I am happy that it has gotten off the table.

Will the next release be Digitally distributed?
Yes all the subsequent releases will be digital with a few hard copies as collector's items. There are people who still find deep pleasure in having a physical CD on a shelf at home. I still have another compilation album that I am already working on [ including] some of the singles recorded between now and 2014.

What are you working on at the moment?
Someone said that before you "think outside the box" see if you have used all the available tools inside the box. As I write this I can't perform, organize events, access our shop and printery (Keek Uganda) due to the lockdown and yet there are people out there who could be in need of our products and services.
Secondly, the people outside Africa have always struggled to access these items and as a solution sometimes they either send someone (not everyone would be willing to carry things for you), wait till they visit or use a delivery service which takes long sometimes and is expensive depending on your geographical location. As they say, you can lock down the body, not the mind.
The partnership was initiated by Mau Qreashionz, an apparel company in the U.S. and discussions started in the first lockdown 2020 to see how we can create another revenue stream and also bring business closer to people outside Africa. I am happy that now it has come to life. In this partnership our main focus is clients outside Africa but anyone anywhere in the world can go online and place an order. [Here's the link] and we'll be adding more items there. Note that this partnership or arrangement will continue to serve the intended people even after the lockdown is lifted. The local clientele will continue to be served under Keek Uganda.
In 2020(last year) Sylvester and Abramz featured on "Beera Powa" by Elijah Kitaka, which received rotation on the local channels, with fans loving the vibe online. Sylvester also featured on "Kampala" and "Okikola Otya" off the collaborative album, Ego by Ace Plug Entertainment in August. Currently he's working on several other projects including collaborations. The digital release of Ziva Muntuuyo will be the first official offering of music this year.
ZM will be out officially next week for both streaming and download.
________________________________
LISTEN TO THE NUVELIVE PODCAST:
---
NuveyLive is an Independent media platform for creatives
How to support The NuveyLive Podcast
ADVERTISE WITH US HERE