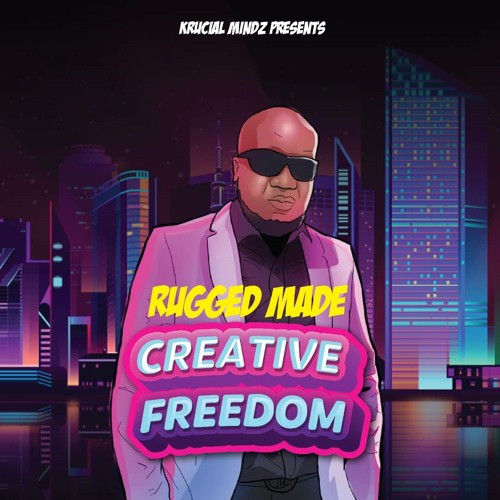 Rugged Made is here! Free to create the way he wishes to. Creative Freedom is officially was released April 6 all over the world. The ever lyrical, energetic (in delivery), fluid with the flows Godwin Urungi aka Rugged Made explores different sounds and themes (without limitations) on this 14 tracks album that in 34 minutes run time – half hour of grown man talk, entertainment, introspection and hip hop at large.
Rugged is not new to the lime light, Creative Freedom is his album that works against the pressure of being in the lime light. Creative Freedom is the third installment of the creative series project/trilogy Rugged has been working on since 2018. The album features B $teezy, Vini, Kulcha, Marten, Lyrical G, Blixxack and Essie.
"On this project I didn't want to be a rapper – rapper," he shared on the NuveyLive Podcast. He offers this project as a creative and for lack of a better word a music content creator not afraid to talk about day to day topics: unemployment, poverty, manhood (see "Man Talk/Woo Yoo"), love, fun (on "Tukatiike"), death and staying focused as he also slides in raps about raps.
Creative Freedom follows Creative Synergy EP which came out after Freedom Is Coming Mixtape. These three make up Rugged's Creative Universe pushing the liberty to produce music for quality's sake. Creative Freedom is the more focused project since it's the album.
Rugged can rap like it's the end of the world, but on this album he chose to tap into his singing, and music abilities as opposed to tying to feed the rap purists (no offense) – he made music for everyone and still spitting some witty lines a thing he has mastered over the years.
He also shows us how in tune he is with events happening within and out of hip hop and the street lingo themed "Oba You Get" attests.
On this album he tells us to hustle and flow. He speaks about the world from an informed point of view and experience woven into life lesson that he can make rap references (with braggadocio) to talk about the grind and still communicate. The economy needs everyone to work as much as they should.
Creative Freedom has all moods and therefore everyone has a song for everyone from hardcore rap funs to casual listeners. Rugged Made feels freer than Morgan Freeman in Shawshank Redemption.
The prelude Freedom Is Coming and Creative Synergy actually gave us a genuine teaser. The album is worth spins.
Standout songs on first listen include the G Funk inclined "G'd Up", "Ssemandongo", "Hustle & Flow", "Man Talk" "Ekibobo", "Dynamite", "Tukatike" and "Oba You get" for the sonic specificity.
The outro "Control" works uniquely to show an end to control of any kind with the will of God and I will give him a plus for this – he offers spiritual vibes with the soothing from Essie. They say poets have access to god-level kind of perspective and therefore they need to make music without any shackles or control.
Rugged is one of the skilled rappers/artiste from the previous decade with Creative Freedom he has opened up a new chapter, a new avenue and released his best body of work so far.
Now go out there and be free, oba you get?
Listen here on any platform
_________________________________
LISTEN TO THE NUVELIVE PODCAST: